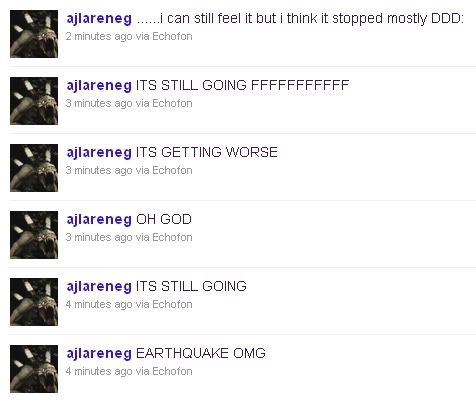 YEP.
earthquake from baja california
.
....HHUUUUUU.
that seems too far away to have felt it as much as i did. .___.;
Also it just now occurred to me that sitting at my desk is probably the most unsafe place to be during an earthquake. :I .....lol.
i'm still working on the pokederps from my other entry btw, and was in the middle of drawing them when the earthquake happened lollllol
edit
AND AFTERSHOCKS NOW FKLLJFLKJFJLKF
So so ..... idk whoever follows me on twitter just got like 900000000+ twitter spams about an earthquake we just had.
Mood:

nervous

Music:

BT - Good Morning Kaia | Powered by Last.fm
It was strong enough to knock down two figures and the water bottle I use to spray my stick bugs every night, but otherwise nothing really happened.... lasted about 20 seconds.
HERE'S A MAP OF IT.
Earthquake map
I'm somewhere between Long Beach and Santa Ana on that map, closer to Santa Ana.
It was officially classified as a 5.4 (as far as I know.) but they originally said it was a 5.8, then they downgraded it to a 5.6 and now it's a 5.4 but it might be less or so.. haha I dunno.
Apparently aftershocks happened but I didn't feel any of them. My cat (the yam) is hiding right now, scary earthquakes... Ava on the other hand.. I wonder if she even noticed it at all. XD
Had an earthquake about an hour ago (11:42am was exact time) I had just started to wake up and then it started shaking harhar.
Mood:

curious